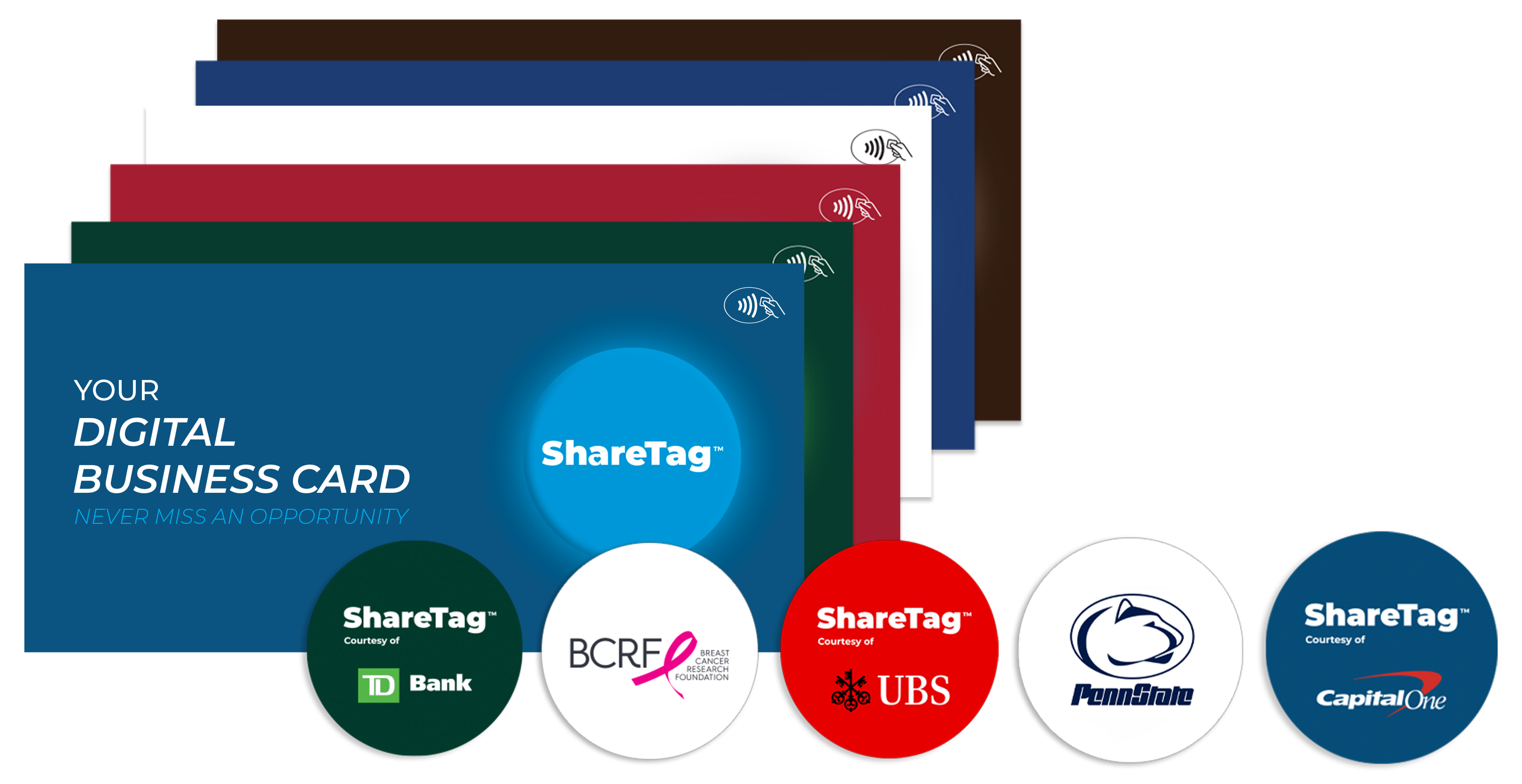 MOST POWERFULL
PROMOTIONAL ITEM
…EVER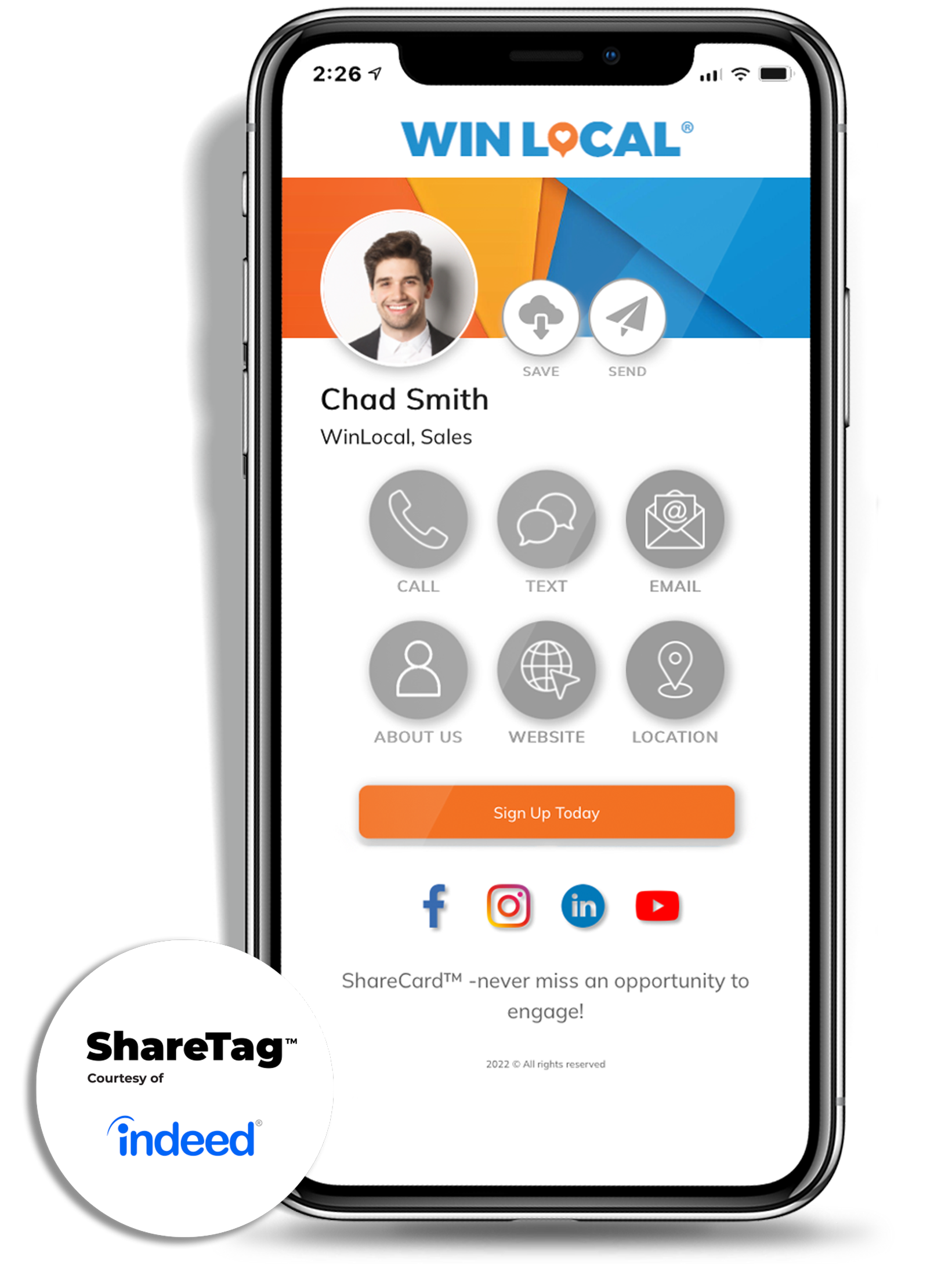 Each ShareTag™ includes a fully customizable digital business card along with access to a powerful platform empowering the ​user to brand and grow their business.
What's Included:
NFC Enabled Tag
Dynamic QR Code
Branded Gateway App
Digital Business Card & SMS Text Code
100 ShareLinks™
Turnkey Advertising on Facebook, Instagram & 50,000+ apps powered by the Meta Network
LinkedIn® Connect
What is a ShareTag
™

?
The #1 Business Tool in 2023
ShareTag™ is an NFC enabled tag that directs people to your digital business card. 
With ShareTag™, your client can get their brand on the back of their customer's phones, and their customers get a powerful digital business card to grow their business too.
Banks
Accountants
Financial Advisors
Insurance Brokers
B2B Business
Sales Teams
Tradeshows
Charities
Mortgage Brokers
Title Agents
Home Inspector
Real Estate Brokers
Banks
Accountants
Financial Advisors
Insurance Brokers
B2B Business
Sales Teams
Tradeshows
Charities
Mortgage Brokers
Title Agents
Home Inspector
Real Estate Brokers
We have had a wonderful experience with ShareCard™ and the team at Win Local®! This partnership was a great opportunity to provide our annual award-winning agents with a new technology that makes them stand out from the crowd.
The setup for our office was easy and the team at Win Local® has provided training and quick follow-up making for an easy rollout! Our agents are excited to customize and use their ShareCards™ to grow their business. We also purchased extra ShareCards™ and are starting to use them in our recruiting tool kit! Overall, we are very pleased with the experience between Berkshire Hathaway HomeServices Troth, REALTORS® and ShareCard™!
"We replaced our team entirely with the ShareCard, and we are huge fans. Not only can we use it to easily get our information to people no matter what. I can get their information back as well. This is a huge win for our team, I can go back and see all the leads we collected, whether that's meeting someone at the hotel lobby, on the trade show floor. A month later, a year later all their contact information is there. And get my information in the hands of people quickly saving it to their cell phones. We're a huge fan of ShareCard, I'm here at ADWERX and we could not be more excited to see what technology they bring out next."
"The Win Local® team did a fabulous job in teaching us the value in moving forward with the Berkshire Hathaway HomeServices ShareCard™! Our ShareCard™ offers so much value to REALTORS and makes us stand out from the crowds of agents on our industry… great way to capture more contacts and easy to use at networking events, open houses and when you are having those conversations with people in your community! This product is very user friendly and Win Local® provides all the training!"
I like the mass-sharing capabilities in terms of having a conference room of folks text "Matt Wilson" to 88500 to get my information, and having the connect button for them to share their information back to me. The best part of the Share CardTM is that all of my information is in one screen that a user can interpret within 1-2 seconds of seeing it. There's no scrolling or navigating content, it's just all there. They can reach my website, book an inspection, follow my social media, or even share my information with someone else. Then, there's the QR code that can be printed on marketing materials that will build a data base of users for me which can be used in future marketing campaigns. All great features that the old school paper business card could never dream of doing.